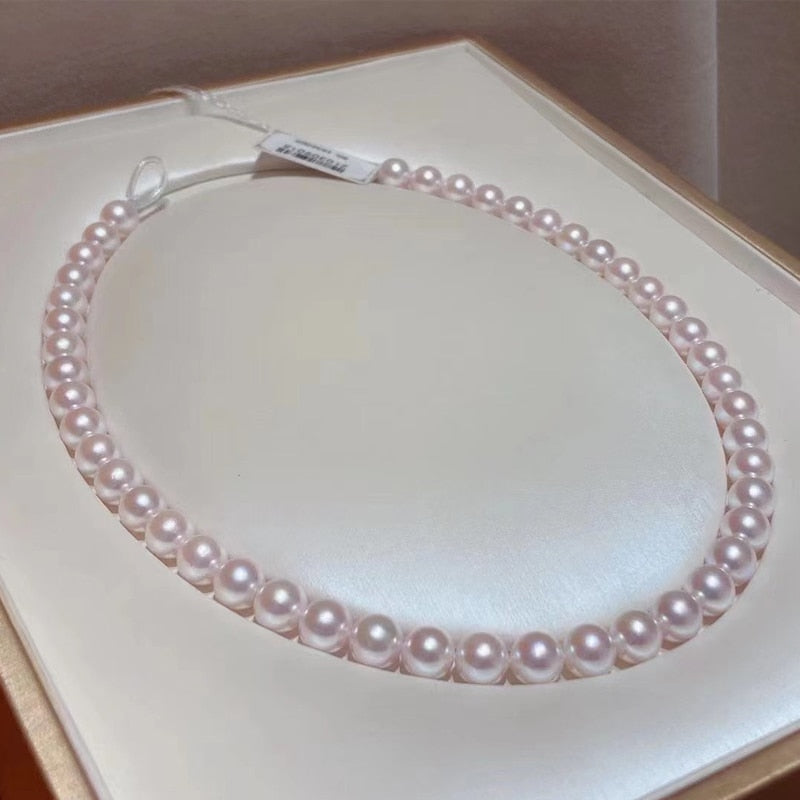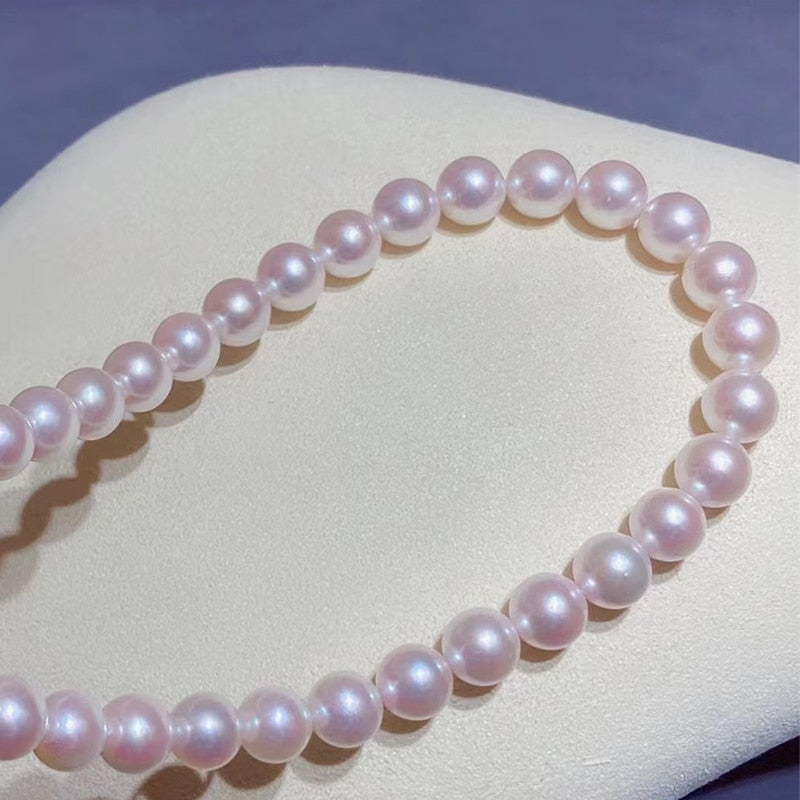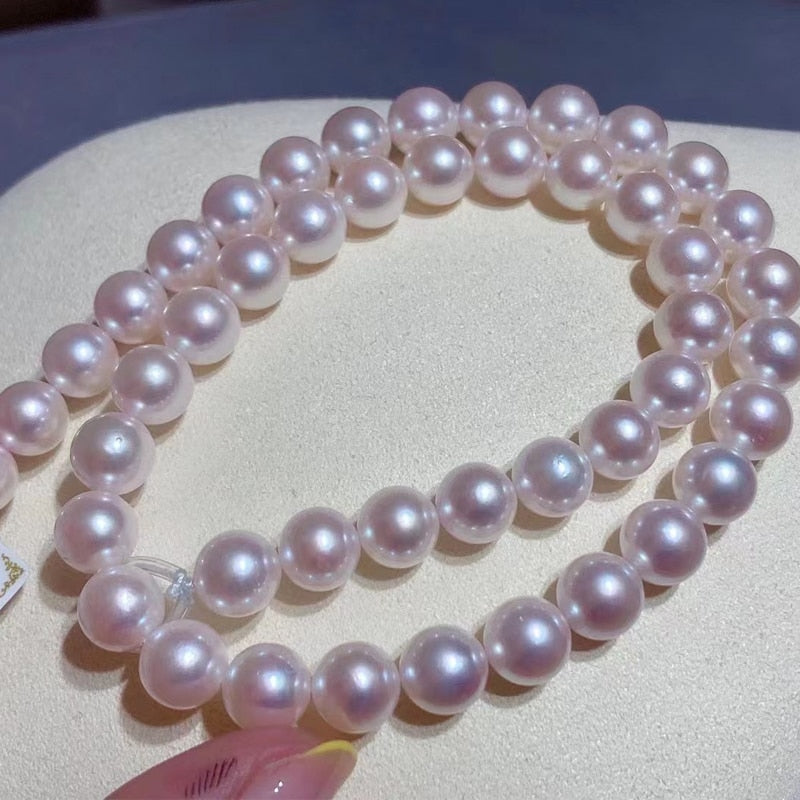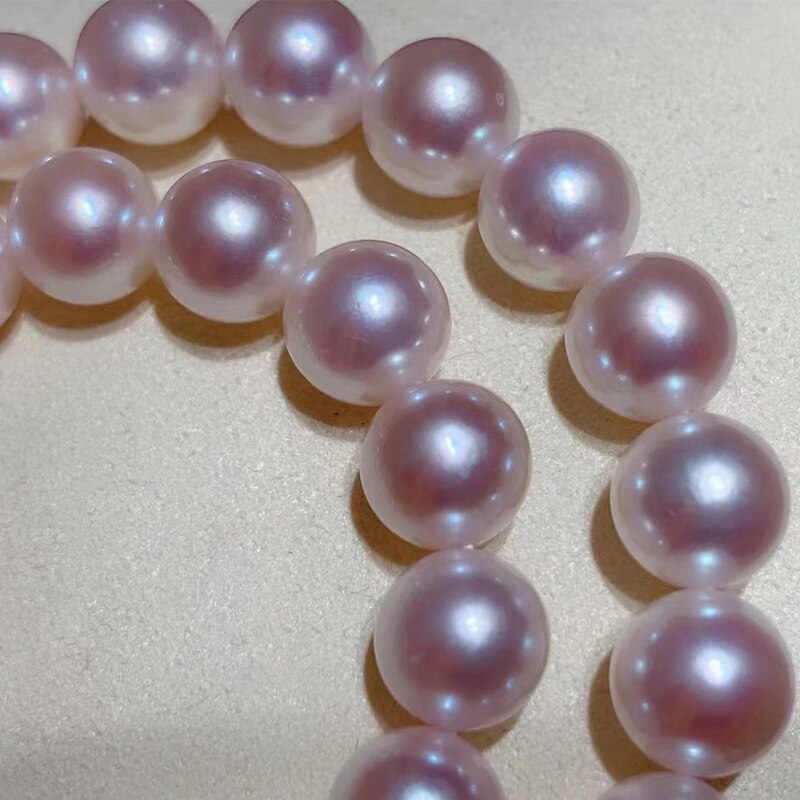 Akoya Sakura Light Pink Pearls Necklace
200000226:350850#Pink;200000639:200661028
---
 Introducing the Natural-Ocean Akoya Sakura Light Pink Pearls Necklace, a luxurious and exquisite piece of jewelry for men. This necklace features a strand of 8.5-9mm round light pink Akoya pearls, each hand-selected for its high-quality luster and color. The pearls are sourced from the ocean, giving them a beautiful and natural look that is truly unique.
This necklace is the epitome of sophistication and elegance, making it the perfect accessory for special events or just elevating your everyday style. The light pink color of the pearls adds a touch of charm, while the round shape gives the necklace a classic and timeless look.

Experience the ultimate in luxury with the Natural-Ocean Akoya Sakura Light Pink Pearls Necklace. With its high-quality materials and exquisite design, this necklace is sure to become a treasured addition to any jewelry collection. Invest in this beautiful piece today and add a touch of sophistication to your wardrobe.
Our standard Super Saver shipping option is through a combination of FedEx Ground and USPS and takes approximately 1-12 business days within the Continental United States.

For a small charge, you can upgrade to Priority Ground service. This service takes only 1-4 business days. View a FedEx Ground Service Map to see approximate shipping times for your location.

Orders ship out Monday - Friday

Your complete order is important to us and we know you have taken time to pick out your items. In the unfortunate event, an item is out of stock on your order due to an inventory error, we will contact you via email and/or phone to try to substitute or replace the out-of-stock item. If we do not hear from you within a 10-business day period, we will remove the out-of-stock item from your order and ship the remaining items. If your order qualified for free shipping, we would honor the free shipping if the out-of-stock item drops your order total below the free shipping threshold.

Special order items included within GG Collection, Christopher Radko, LeCadeaux, Scout, Jay Strongwater, Royal Albert, Royal Doulton, Wedgwood, and Waterford are ordered especially for you and usually take 2-3 weeks to arrive.

Special order items listed as back ordered may still be purchased. Your entire order will be held until all the items arrive.

Drop Ship order items included within Golden Rabbit, Aidan Gray, Arte Italica, Arthur Court, Vagabond House, Bella Toscana, Deco Breeze, Juliska, Match Pewter, Mariposa, Pimpernel, Portmeirion, Spode, Vietri, Cat Studio, Intrada, SPI Home and Sugarboo are ordered especially for you and drop shipped directly to you from the manufacturer. Intrada, SPI Home, and Sugarboo may take extra weeks to arrive.

During periods of extreme heat across the country, we reserve the right to hold CANDLE orders placed towards the end of a work week if it is necessary to do so to avoid candles melting in transit. In these rare cases, orders will be shipped the following Monday.

Tracking numbers for Priority Ground services and Express services are automatically emailed within 24 hours after the order ships.

Unfortunately, at this time, we cannot ship to Canada, Alaska, Hawaii, Puerto Rico, APO/FPO addresses, and P.O. Boxes.

Note: If your order was shipped Priority Ground and you need to modify your address after your order has been shipped, a $13.00 rerouting fee will be charged as this is the amount FedEx charges us. Orders shipped through other methods (USPS or FedEx Smartpost) can not be rerouted per Post Office regulations.

Please Note: We do not ship internationally and our orders are not packaged to withstand the long journey overseas. We are not responsible for any loss or damage that occurs to orders that are forwarded to other countries by a third-party shipping company. We are only responsible for the safe delivery of the package to the destination listed as the "Ship to" address on your order. Any problems beyond that point must be claimed with the third-party shipping company. If the shipment arrives at the shipping company in a damaged state, the shipping company will need to refuse the package at that point or contact us before sending the order out.
And for more information or complaint kindly contact us using the information provided below
Trade name: Harry's Pearl Necklaces
Phone number: +1 3109225919
Email: harryspearlnecklaces@gmail.com
Physical address: 9255 Sunset Blvd, Los Angeles CA 90069, United States